The really amazing part is that he didn't have to wait in line to ride it.
Original Story Here:
http://finance.yahoo.com/tech-ticker/article/300970/Microsoft%27s-Marketing-Stunt-Goes-Viral?tickers=msft
Following are this weeks picks for NZB's Of The Week:
Movie of the Week
Ice Age: Dawn of the Dinosaurs
NZB: Ice Age: Dawn of the Dinosaurs (2009) PAL.nzb
Region: PAL
Type: R5 DVD
Description: After the events of "Ice Age: The Meltdown", life begins to change for Manny and his friends: Scrat is still on the hunt to hold onto his beloved acorn, while finding a possible romance in a female sabre-toothed squirrel named Scratte. Manny and Ellie, having since become an item, are expecting a baby, which leaves Manny anxious to ensure that everything is perfect for when his baby arrives. Diego is fed up with being treated like a house-cat and ponders the notion that he is becoming too laid-back. Sid begins to wish for a family of his own, and so steals some dinosaur eggs which leads to Sid ending up in a strange underground world where his herd must rescue him, while dodging dinosaurs and facing danger left and right, and meeting up with a one-eyed weasel known as Buck who hunts dinosaurs intently.
-
XBox 360 Game of the Week
Batman: Arkham Asylum
NZB: Batman: Arkham Asylum (2009) Region Free.nzb
Region: Region Free
Type: DVD9
Description: The game begins with Batman apprehending the Joker after his latest plot and escorting him to Arkham Asylum for imprisonment. Due to the Joker's recent attack on Gotham City's Blackgate Prison, a large number of sane convicts have been transferred. Shortly after arriving, however, the Joker, with the help of Harley Quinn, frees all the inmates and locks down the Asylum with Batman, Commissioner Gordon, and most of the staff still inside. The Joker then threatens to detonate bombs all over Gotham if anyone tries to enter. Batman must uncover the full extent of the Joker's plan while contending with the horrors of Arkham.
-
-
Wii Game of the Week
Deal or No Deal
NTSC NZB: Deal or No Deal (2009) NTSC.nzb
PAL NZB: Deal or No Deal (2009) PAL.nzb
Type: DVD5
Description: You have one question to answer in this videogame based on the popular trivia show: Deal or No Deal? The hit TV show comes to your favorite video game system! The premise is simple: You have 26 briefcases in front of you. Each one contains a different amount of money. Open each case one by one, and try to find the briefcase with the biggest amount of money. Deal Or No Deal?
-
-
-
-
Mac App of the Week
Little Snitch v2.1
NZB: Little Snitch v2.1.nzb
Description: As soon as you're connected to the Internet, applications can potentially send whatever information they want to wherever they want.
Sometimes they do this for good reason, on your explicit request. But often they don't. Little Snitch allows you to intercept these unwanted connection attempts, and lets you decide how to proceed. Little Snitch informs you whenever a program attempts to establish an outgoing Internet connection. You can then choose to allow or deny this connection, or define a rule how to handle similar, future connection attempts. This reliably prevents private data from being sent out without your knowledge. Little Snitch runs inconspicuously in the background and it can also detect network related activity of viruses, trojans and other malware.
-
Windows App of the Week
Autodesk 3D Studio Max 2010
NZB: Autodesk 3d Studio Max 2010.nzb
Type: DVD9
Description: Create stunning 3D in less time with Autodesk® 3ds Max® software. This full-featured 3D modeling, animation, and rendering solution is used to produce top-selling games and award-winning film and video content. It's a tool of choice for quickly generating realistic characters, seamless CG effects, jaw-dropping games, and top-quality film and television content. Enhanced toolsets enable you to create your 3D environment the way you want, manage complex scenes, and take advantage of improved software interoperability and pipeline-integration support.
-
That's it for this weeks NZB Files, be sure to check back next week for the newest NZB files. I'm also open to requests if anyone has anything specific that they need, just leave me a comment and let me know.
If you are not sure what NZB file's are then you can read my article What are NZB Files to get a better understanding, if you already know all about NZB files and need to find a good usenet server to download from then you can read my articleDownload Games, Movies, T.V. Shows, Safe and Fast.
ShopWiki revolutionizes online shopping since it finds every store on the internet by crawling like Google.
Traditional shopping sites will only show you stores that have PAID for placement, and ShopWiki will give a shopper everything. For a shopper, this means they can find anything and everything for sale on the web at ShopWiki.com.
More products from more stores means better deals and savings. Just as an example you can use ShopWiki, to easily find XBox360 consoles, XBox360 games and XBox 360 accessories. I've had a chance to check out the site and I think its very easy to use and very well laid out.
Watch as Ice-T breaks apart a MacBook Pro. It's almost as painful as it is funny to watch while he breaks it apart using his hands and a hammer. All I have to say is poor MacBook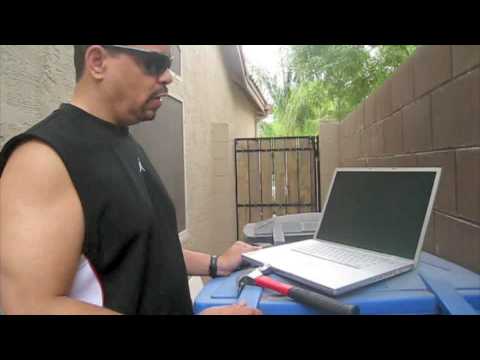 What do you guys think ? Does he have what it takes to be a Mac Genius ?
UPDATE: I just released A Geek Clock on the App Store, you can check out more info in this post A Geek Clock
So I decided that I would write up a quick tutorial on how to read a binary watch. It's actually pretty simple after you learn how to convert binary to decimal. Not to worry converting from binary to decimal is easy. I'll give you a quick example of how this can be done, quickly and easily.
Let's say you have an 8 bit binary ( base 2 ) number 00010011 and you want to know how to convert it to a decimal ( base 10 ) number. You can write it out similar to the example below.
| | | | | | | | |
| --- | --- | --- | --- | --- | --- | --- | --- |
| 128 | 64 | 32 | 16 | 8 | 4 | 2 | 1 |
| 0 | 0 | 0 | 1 | 0 | 0 | 1 | 1 |
All you have to do her is for every number that has a one in the bottom field add the top numbers together. So in this example we have 16 + 2 + 1 which equals 19. So our binary number 00010011 becomes 19 in its decimal form. This is as much information as you'll need to know about converting binary to decimal in order to read a binary watch, therefore I will not go much further into converting binary to decimal or decimal to binary.
Most binary watches have 2 rows of lights, the lights indicate a 1 or 0. If the light is on, it represents a 1 if the light is off it represents a 0. I'm going to use the image below as an example:
In this example, there are 2 rows. The first row reads 1011 and the second row reads 110100. See if you can figure that out on your own by looking at the watch. Notice that I've substituted the lights that are on with 1′s and the lights that are off represent 0′s.
You'll also notice that these watches don't represent 8 bit binary numbers. This is o.k. and doesn't pose a problem whatsoever. Either you can read from right to left or you can add leading 0′s. For example:
The top row being 1011 would actually be 00001011 and the bottom row of 110100 would be 00110100. Not too bad but it does waste time doing it this way. If you can remember the numbers: 1,2,4,8,16,32 then you're all set, each number is just a multiple of the previous one. So knowing these numbers, we would read the lights from right to left. Starting with the top row, the light is on so it has a value of 1, the 2nd light is on so it has a value of 2 and the 4th light is on, so it has a value of 8. If we add these numbers together we get 11 and that would be the hour of the time. Now for the bottom row, The first and second light are off so they don't get a value the third light is on so it has a value of 4. The fifth light is on and thus has a value of 16 and the sixth light is on giving it a value of 32 if we add all of these number together: 4 + 16 + 32 we get 52 which is the minutes. So the time that this binary watch is displaying is 11:52
It may seem like a difficult task at first but the more you use it, the easier it will get. Just think about it this way, we were all raised on base 10 system growing up. So for all the years in our life we've been using this base 10 system, trying to get used to a base 2 system for every day use is not simple but can be achieved with patience and practice.
On a side note, as I was writing this post, I thought it would be cool to make a dashboard widget of a Binary Watch for Mac OS X. I've actually finished developing it before I finished writing this post. You can download the widget from my Projects Page. Let me know what you guys think. If you like this widget, then you should definitely check out the real thing. How cool would it be to wear this widget on your wrist. Well if you check out thinkgeek.com, you'll find that they are selling a binary watch that you can wear on your wrist. In fact their design is what inspired this widget. Here is a link to the watch http://www.thinkgeek.com/gadgets/watches/6a17/
Following are this weeks picks for NZB's Of The Week:
Movie of the Week
X-Men Origins: Wolverine
NZB: X-Men Origins: Wolverine (2009).nzb
Region: NTSC
Type: R5 DVD
Description: In 1845 in North-Western Territory, British North America, young James Howlett (Troye Sivan) sees his father John Howlett (Peter O'Brien) killed by his friend Victor Creed's father, Thomas Logan (Aaron Jeffery). In an act of vengeance, James kills the elder Logan using bone claws which have grown out of his hands. With his dying breath, Logan tells James that he is also his son. James and Victor (Michael-James Olsen) run away, pursued by a torch-wielding mob. They promise to look out for each other.
In the years that follow, adult brothers James (Hugh Jackman) and Victor (Liev Schreiber) are seen fighting together in the American Civil War, World War I, World War II, and eventually the Vietnam War. Their regenerative powers keep them from being killed in the battlefield. James is forced to act as a check on Victor's increasing rage and ferocity. In Vietnam, Victor kills a superior officer after being stopped from raping a girl, and James and Victor are sentenced to death by firing squad, though their unique regenerative abilities keep them alive.
-
XBox 360 Game of the Week
Wolfenstein
NZB: Wolfenstein (2009) Region Free.nzb
Region: Region Free
Type: DVD9
Description: It is the year 1943. The Second World War is at its height. While Allied forces have stalled the expansion of Hitler's Third Reich, the Nazi war machine still has its boot on the throat of mainland Europe. Enter Heinrich Himmler's feared SS and its plan to master an occult force known as the Black Sun. With this mysterious power source at its disposal, no army on Earth could stand in the Reich's path. No army but the man who had single-handedly shut down Himmler's Übersoldat program and thwarted the resurrection of ancient superhuman King Heinrich I, that is. Once again, the world requires the particular talents of special agent B.J. Blazkowicz. Wolfenstein uses a massively improved version of id Software's id Tech 4 video game engine, the technology behind Doom 3 and Quake 4. The game is being developed by Raven Software for the PC, Playstation 3 and Xbox 360. The modifications to the game engine include depth of field effects, soft shadowing, post processing effects, Havok physics, as well as the addition of a supernatural realm, called The Veil. While in The Veil the player has access to certain special abilities, such as the power to slow down time, to get around obstacles that exist in the real world, or even to be able to defeat enemies that have an otherwise impenetrable shield. The multiplayer part of Wolfenstein is being developed by Endrant Studios.
-
Wii Game of the Week
Wii Sports Resort
NTSC NZB: Wii Sports Resort (2009) NTSC.nzb
PAL NZB: Wii Sports Resort (2009) PAL.nzb
Type: DVD5
Description: Wii Sports Resort is set in a beach resort on an island called Wuhu Island, which is also featured in Wii Fit, where twelve different sports are available to play. Like the original, the sports are each played by holding the Wii Remote (and in some cases, the Nunchuk) in a manner similar to the actual sport being replicated. For example, in Archery, the player holds the Wii Remote vertically to hold the bow, and pulls back the Nunchuk to pull back the bow's string. The new feature that Wii Sports Resort brings is Wii MotionPlus compatibility, which enables 1:1 control and allows the games to be played with greater accuracy. For example, in Wii Sports Tennis, the player's shots were all determined by which direction the Wii Remote is swung like a racket. Wii Sports Resort offers a new variation, Table Tennis (previously featured in Wii Play), where the player has greater control over adding spin to the ball by twisting the Wii Remote while swinging. Wii MotionPlus is required for all Wii Remotes being used with Wii Sports Resort. Most sports with up to 3 or 4 players will allow one Wii Remote to be shared among players while taking turns. Canoeing is the one exception where a controller is required for all 4 players.
-
Mac App of the Week
Microsoft Office 2008
NZB: Microsoft Office 2008 with Service Pack 2.nzb
Description: Office 2008 for Mac includes the same core programs currently included with Office 2004 for Mac: Entourage, Excel,PowerPoint and Word. Mac-only features included are a publishing layout view, which offers functionality similar to Microsoft Publisher for Windows, a "Ledger Sheet mode" in Excel to ease financial tasks, and a "My Day" application offering a quick way to view the day's events. Office 2008 supports the new Office Open XML format, and defaults to saving all files in this format. On February 21, 2008 Geoff Price revealed that the format conversion update for Office 2004 would be delayed until June 2008 in order to provide the first update to Office 2008. Microsoft Visual Basic for Applications is not supported in this version. As a result such Excel add-ins dependent on VBA, such as Solver, have not been bundled in the current release. In June 2008, Microsoft announced that it is exploring the idea of bringing some of the functionality of Solver back to Excel. In late August 2008, Microsoft announced that a new Solver for Excel 2008 was available as a free download from Frontline Systems, original developers of the Excel Solver. However, Excel 2008 also lacks other functionality, such as Pivot Chart functionality, which has long been a feature in the Windows version. In May 2008, Microsoft announced that VBA will be making a return in the next version of Microsoft Office for Mac. AppleScript and the Open Scripting Architecture is, however, supported.
-
Windows App of the Week
Windows 7 Ultimate
NZB: Microsoft Windows 7 Ultimate x64 Multilanguage.nzb
Type: DVD9
Description: Windows 7 Ultimate contains the same features as Windows 7 Enterprise, but unlike that edition it will be available to home users on an individual license basis. Windows 7 Home Premium and Windows 7 Professional users will be able to upgrade to Windows 7 Ultimate for a fee using Windows Anytime Upgrade if they wish to do so. Unlike Windows Vista Ultimate, the Windows 7 Ultimate edition will not include the Windows Ultimate Extras feature or any exclusive features.
-
-
That's it for this weeks NZB Files, be sure to check back next week for the newest NZB files. I'm also open to requests if anyone has anything specific that they need, just leave me a comment and let me know.
If you are not sure what NZB file's are then you can read my article What are NZB Files to get a better understanding, if you already know all about NZB files and need to find a good usenet server to download from then you can read my articleDownload Games, Movies, T.V. Shows, Safe and Fast.
I was just checking out the Apple Store to see what new products they have and by doing so found something really cool and useful. The Eye-Fi 2GB Geo Wireless Memory Card could be considered an all-in-one solution to digital picture taking.
The Eye-Fi card allows you to wirelessly upload your digital photos to iTunes and what's even better is that the Eye-Fi card can detect wireless networks around your area to determine your current geographical location, so that when you take a picture it is automatically geo coded, and for only $60.00 from the Apple Store, I think this is definitely a product worth purchasing.
The memory card comes with a USB memory card reader and will work with Mac OS X v10.4 or v10.5 as well as Windows Vista or XP. It's compatible with digital camera's that have either an SD or SDHC slot.
Here's a link to the product Eye-Fi 2GB Geo Wireless Memory Card
According to Discovery News, Italian scientists have developed a way to use a block of wood and turn it into an artificial bone for implants. They say that it will allow live bones to heal faster after a break than the currently available metal and ceramic implants. The reason they're using wood is because it closely resembles the physical structure of natural bone.
How is this done ? Well, they start with a block of wood and heat it until all that remains is pure carbon, which is basically charcoal. They then spray calcium over the carbon, creating calcium carbide, then some additional chemical and physical steps convert the calcium carbide into carbonated hydroxyapatite, which can then be implanted.
Sounds very interesting, who would have thought that you could actually create artificial bones from a block of wood ?
Brickhouse Security offers a new product that allows you to discreetly spy on your computer when you're not there, without any signs of it happening. Even if its under a different user name by adhering to the operating system. The Stealth iBot can get text, passwords, pictures, websites visited and more than enough information to turn you into a computer spy.
Have you ever wanted to spy on someones computer? What would you find?
Would you be upset if someone was spying on your computer? What would they find? What is the worst thing you think may be found on that computer?
As a parent or employer would you want to know what is happening on your childs or employees computer? What would you do if you found something you didnt like?
Did you know that 15% of children admit to chatting with strangers online? 1/3 of divorce litigation is caused by online affairs and 25% of company time is spent by employees goofing off.
I haven't had a chance to review the product first hand but according to the specs on their website this seems like the ultimate computer spy tool. I remember the days of installing keyloggers just to have them detected by Anti-Virus software to be removed from the installed computer.
This product seems like the perfect hardware solution to monitor what's going on on your or anyone else's computer. Although I believe the price is a bit steep, its surely worth it.
Sometimes a family plan is just a collar and a leash
An Alabama woman was arrested in April 2009 accused of injuring a child while dragging it through a store in Rome. According to Floyd County Jail records:
Melissa Catherine Smith-Means, 37, of Gaylesville, Ala., was arrested by Rome police around 12:30 p.m. She was charged with felony first-degree cruelty to children.
Police say she was observed by customers and employees at a store on Broad Street, dragging a small child around by a backpack leash. The child had visible marks on the neck from the incident. She remained in jail without bail.
A person claiming to be the woman's husband later dismissed the strange behavior as a game the pair played at home.